About
'At least give me a glossary and stop making me feel stupid and unwelcome.'
This comment by one of the project collaborators captures a common feeling many people experience in art galleries.
Inspired by this feeling, The People's Glossary was created to explore how language is used when we discuss contemporary art. It is a resource intended to create a useful shared language, but also challenge the ways people interpret, describe and experience contemporary art.
This glossary was produced in 2019 with a number of collaborators to record public responses to the collection of contemporary art at Tate Liverpool. People had a lot to say about the definitions of words and different interpretations of artworks. This website displays the outcome of these discussions where people came together to create a people's glossary. It is not intended to be used as a fixed dictionary, but rather as a starting point to explore different meanings behind words.
Over time it is hoped this glossary will continue to grow with the input of more words by new users.
Collaborators
The People's Glossary was produced by multiple people. The Community Collective from Tate Liverpool suggested many of the words and meanings. Below are the names of some of the contributors.
Community Collective:
Eddie Bailey
Rachel Brewster
Vicki Cierpicka
Jasmir Creed
Jan Davies
Linda Dean
Nicky Gerrard
Tommy Graham
Diane Jansen
Neil Massingham
Bobbie McMullen
Peter Melik
Donna Monaghan
Julia Nolan
Andzelka Dolak Siara
Sol Sorsky
Hilary Whitehead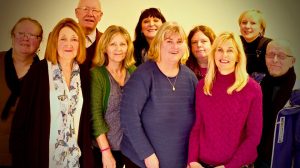 Tate Exchange Co-producers:
John Bernard
Leanne Cook
Jess Fairclough
Jade French
Alice Gray
James Harper
Dorothy Horabin
Sumuyya Khader
Maggie Matić
Rene Matić
Sufea Mohamad Noor
Louis Palliser-Ames
Aoife Robinson
Jack Welsh
Liv Wynter
With special thanks to Quad Collective; Evelyn Broderick, Jess Fairclough and Aimee Harrison. And the team at Tate Liverpool.
Disclaimer
This website is an outcome of a doctoral research project facilitated by artist, Emma Curd. Currently, members of the public are unable to create new words and meanings on the website due to the examination process. After the examination period, the website will be in full working order for people to use as it was intended.
Initial descriptions of words are taken from the Oxford English Dictionary, 2019.